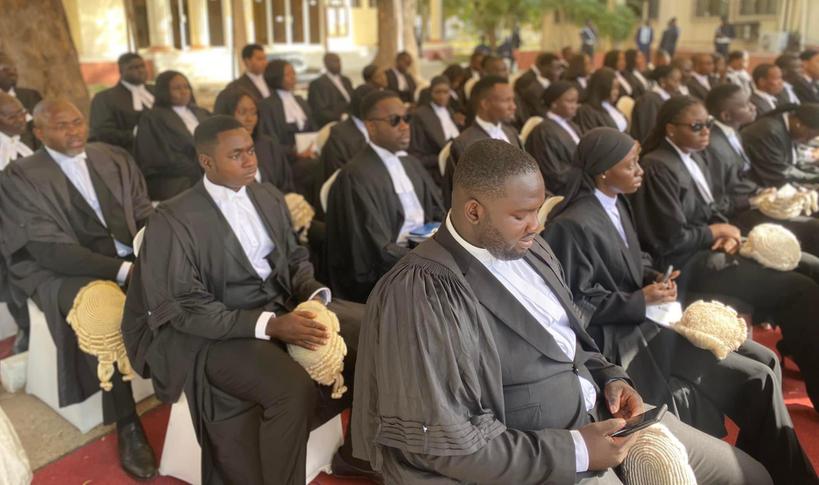 Minister for Justice Addressed 72 New Graduating Lawyers
By Musa Saho
Honourable Dawda A. Jallow, the Attorney General and Minister for Justice, on February 6th, 2023 addressed the 72 new graduates of the Gambia Law School, who were called to the bar upon successful completion of their professional legal training during a ceremony held at the Supreme Court Complex in Banjul.
In his opening remarks, the Attorney General congratulated the new wigs for gaining the confidence of the General Legal Council of The Gambia and for being found worthy in character and learning as well as fit and proper persons to be called and admitted to the Gambian Bar.
He added that the day signifies the culmination of their hard work and dedication in going through intensive and rigorous professional training to become legal practitioners in The Gambia.
"To the new wigs, it is very important to note that as lawyers, you are regarded as persons of good character, integrity, honesty, steadfastness and of course noble, which is what the legal profession has always been known for," he said.
He advised the graduates to guard the values of the legal profession in order to maintain the respect and dignity accorded to persons who bear the title of a legal practitioner and always be willing to receive advice and guidance from their seniors who have gained significant experience in the practice of law over the years.
The Minister further urged the new graduates not to engage in any practice that is unbecoming of a lawyer and reiterated that the legal profession should instil a sense of service which will allow them to not only concentrate on the lucrativeness of the profession but on how to help people in dire need of justice.
On that note, he urged them to provide pro-bono legal services to people who cannot afford the services of a lawyer in the midst of their legal problems.
"I urged you to treat everyone with respect, regardless of your differences in religion, ethnicity, and opinions. Your relationships with the Judges, Magistrates, and your learned colleagues must be based on the ethics of the profession both in and outside of the Bar. You are under an obligation to maintain the standards of etiquette, stand for justice and treat others with fairness and decorum," he concluded.