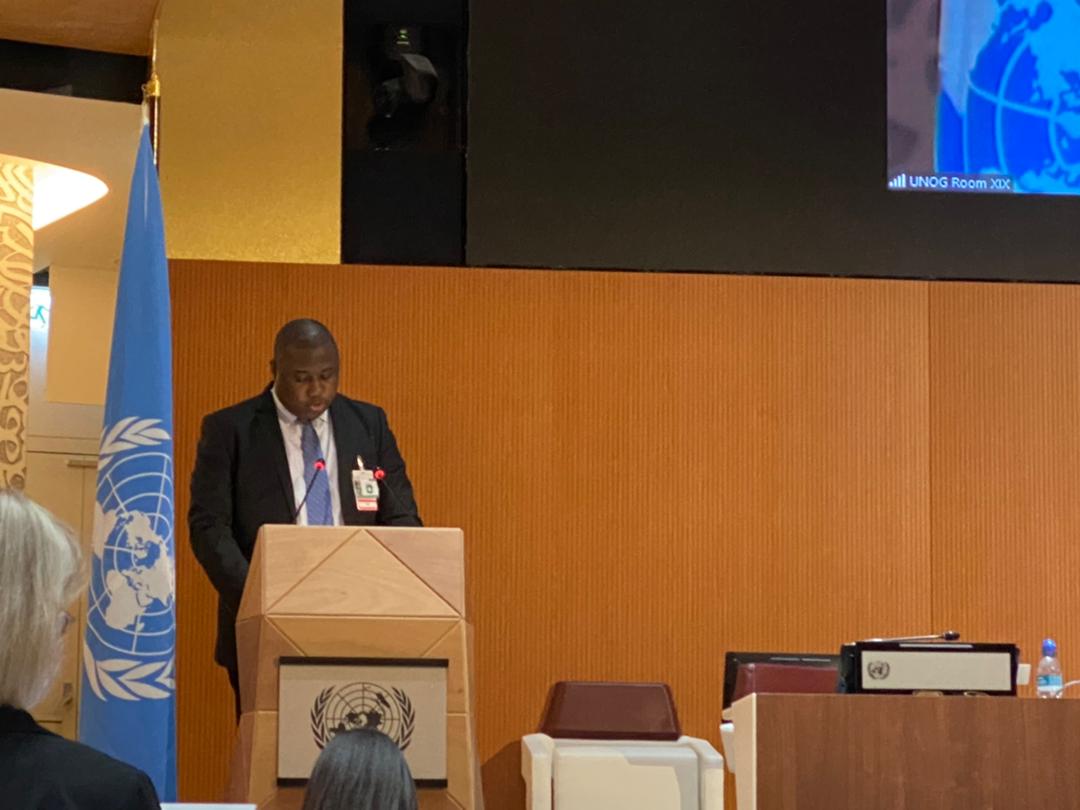 Justice Minister Calls on Russia, Ukraine to Immediately Enter Cease Fire
By Musa Saho
The Attorney General and Minister for Justice, Honorable Dawda A. Jallow, has delivered his statement at the High Level Segment (HLS), of the 49th Human Rights Council (HRC), session held on the 2nd March, 2022 in Geneva, Switzerland.
The session brings together senior government officials from member states, the President of the General Assembly H.E. Mr. Abdulla Shahid, the Secretary General of the United Nations H.E. Mr. Antonio Guterres, the United Nations High Commissioner for Human Rights H.E. Ms. Michelle Bachelet and the President of the Swiss Confederation S.E.M Ignazio Cassis among other dignitaries.
In his opening remarks, Minister Jallow stated that the Gambia is grateful to the entire membership of the General Assembly for the trust and support given to them, assuring members of the Gambia's full commitment to the Human Right Council.
He added that human rights and fundamental freedoms are an integral part of the institutions established by the Gambian constitution with a view to safeguarding human dignity as a common and an intrinsic condition that applies to all persons subject to the jurisdiction of the state.
"As members of various multilateral institutions like this council with a shared legal frameworks, we must stand up to our commitments and forge a united front against all forms of human right abuses and violations wherever they occur," he said.
He further added that the Gambia will continue to pursue accountability for the Rohingya Muslims minorities in Myanmar and condemned all forms of discrimination, xenophobia and intolerance against minority groups anywhere.
On the topical issue of the Russia-Ukraine conflict, Minister Jallow added his voice to the international community, calling on Russia and Ukraine to immediately enter into a cease fire to avoid the suffering of innocent people and return to the negotiating table for peace, stating that
"The Gambia calls for dialogue and a diplomatic solution with a view to averting humanitarian disaster and catastrophic destruction of lives and properties," Hon. Jallow expressed.
On Covid-19 vaccine, Minister Jallow called on the Council to amplify its condemnation of the ongoing vaccine apartheid and ensure that there is universal access as well as equal distribution of vaccines to the developing world.
"Climate change and environmental degradation continues to threaten our very existence as they adversely affect our natural habitation, livelihoods and food security," Mr. Jallow stated. He applauded the continued commitment of the council in finding solutions to these situations.
He further pointed out that, the Gambia will continues to pursue the agenda of putting people first to achieve right to food, right to decent living and right to safe and sustainable environment.
He concluded by reiterating the Gambia Government's full commitment and support to the Human Right Council; and ensuring the effective implementation of this resolution to promote economic, social and environmental policies and actions that will protect people and nature.