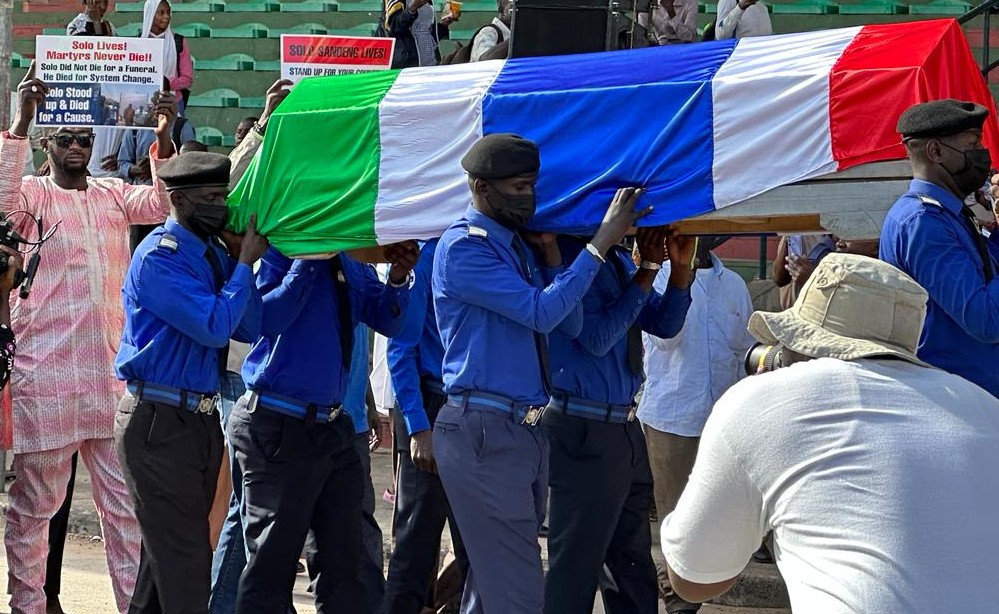 Attorney General Bids Farewell to Hero Ebrima Solo Sandeng
The Government of the Gambia, through the Attorney General's Chambers and Ministry of Justice in collaboration with Ebrima Solo Sandeng's Family on Tuesday 10th January 2023, offered an official State Funeral and Tribute Service for the late Ebrima Solo Sandeng at the Never Again Memorial Arch in Banjul.
The event was graced by Honorable Cabinet Ministers, National Assembly Members, Members of the Diplomatic and Consular Corps, Civil Society Organizations, Family Members of the late Ebrima Solo Sandeng, and Leaders of political parties among other dignitaries.
The Representative of the President, honorable Dawda A. Jallow who doubles in as the Attorney General and Minister for Justice said the nation gathered today to pay their last respect to the late Ebrima Solo Sandeng, a special son of the country and a man who stood up against dictatorship.
Minister Jallow said Solo was the man who paid the ultimate price in fighting for the cause he genuinely believed in and left an indelible mark in the political history of the country.
"He demonstrated his love for his country as a patriotic citizen who willingly volunteered his services for the development of his community and the nation at large. Solo demonstrated his passion for democracy, education, social justice, and human rights through the various institutions he rendered his invaluable services to," Mr. Jallow expressed.
Minister Jallow went further to state that Solo was a catalyst to the newfound democracy the nation enjoys today as he inspired the masses to expressly desire and vote for change and freedom. He added that Solo's legacy has inspired the nation's current security sector reforms and the transitional justice process as a whole.
"We cannot bring back the lost loved ones, but we are committed to ensuring that what happened to Solo never happens in this country; that we owe to Solo," Mr. Jallow emphasized.
Minister Jallow reiterated the government's commitment to safeguarding the legacy of Solo Sandeng and will not relent in its efforts.
He further stated that as a nation, we can only strive to do better and continue to strengthen work done towards achieving a system that is built on the foundation of the rule of law, democracy, strong institutions, good governance, and justice.
AG Jallow said it is indeed heart-warming for Solo Sandeng's family and the country that justice has been attained for him.
The Minister concluded by expressing his profound condolences to Sandeng's family and reiterated that his legacy will continue to live on in the history of our democratic transition as a nation and will be missed by many but will never be forgotten in our hearts.