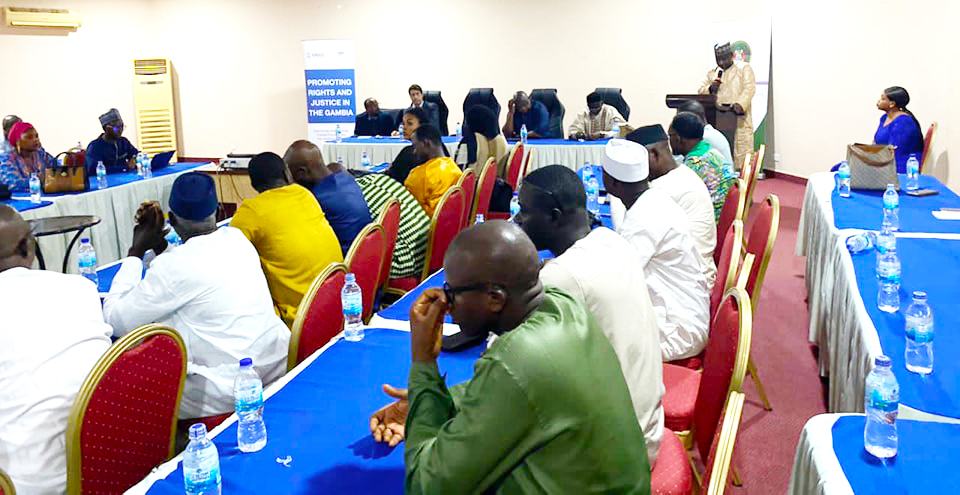 Ministry of Justice, National Assembly Wraps Up a Review Session
By Musa Saho
The Ministry of Justice with the support of the United Nations Development Fund and the America Bar Association wrapped up a five-day comprehensive review session on the various Bills, during a retreat that took place from 26 to 30, October 2023. This critical review session was conducted in collaboration with the National Assembly Members. The Bills under scrutiny included the Victims Reparations Bill, The Judicial Officer (Remuneration and Other Entitlements) Bill, the Former Presidents Bill, the Vetting Bill, the Commission of Inquiry Bill, and the Ban from Public Office Bill.
The primary aim of this review session was to provide the National Assembly Members the opportunity to delve into the contents and implications of each bill, facilitating a thorough understanding and refining their perspectives before the Extraordinary Session of the National Assembly. This was aimed not only to speed up the review process but also to ensure a comprehensive evaluation, resulting in laws that are robust and effective.
In his opening remarks, the Attorney General and the Minister of Justice highlighted that the session with the National Assembly members was a partnership forum aimed at understanding the objectives of the Bills to ensure they align with the values of justice and accountability.
"I advise each member of the National Assembly to approach this task with diligence, wisdom, and an unwavering commitment to the betterment of our nation. Our collective efforts in scrutinizing these bills, as they will shape the legal landscape of The Gambia," AG concluded.
In his part, the Representative of the United Nations Development Fund, Mr. Justin Haccius highlighted that the Ministry of Justice cannot do it alone and urged the National Assembly as the elected representatives of the people, to review the work of the Ministry and approve it if they so see fit.
He added that the path to justice, healing, and reconciliation is long and hard, but they are united at heart and in deed to manage the impact of the past, learn from the mistakes, and build a better future for the people of the Gambia.
Mr. Elysee Sindayigaya, the America Bar Association Country Director and Chief of Party, Promoting Rights and Justice in the Gambia commended the Ministry of Justice for the inclusive and constructive approach - it has taken in bringing together members of the National Assembly, Subject Matter Experts, and Civil Society Representatives to discuss the contents of these Bills. At the same time, he reiterated PJR's unwavering commitment to supporting the Gambia's transitional justice process.
The review session comprises a series of presentations, expert consultations, and open discussions. It encouraged constructive dialogue and cooperation between the different stakeholders, to foster understanding and avoid delays during the Extraordinary Session of the National Assembly.
Finally, following the overview of the Bills, the National Assembly members were taken through each bill, and they made insightful suggestions and recommendations.