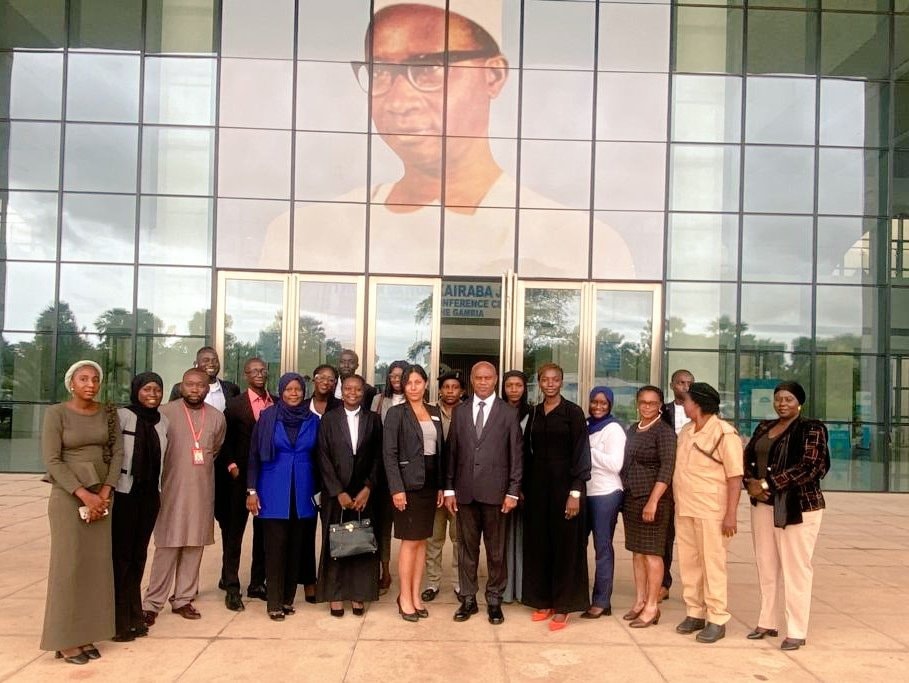 Criminal Justice Actors Commences a Four-day Training on Investigating and Prosecuting SGBV Offences
By Musa Saho
The Sexual and Gender-Based Violence Unit of the Ministry of Justice, with support of Global Affairs Canada, through its Technical Assistance Partnership – Expert Deployment Mechanism implemented by Alinea International, kicked off a four-day training and consultation workshop from 7th-10th August, 2023, on responding to, investigating, and prosecuting sexual and gender based violence (SGBV) crimes, at the Sir Dawda Kairaba Jawara International Conference Centre.
The workshop was attended by state counsels from the Ministry of Justice, including police, investigators, and state counsel, as well as members of the Ministry of Gender, Children & Social Welfare, The National Agency Against Trafficking in Persons (NAATIP), and the National Agency for Legal Aid (NALA).
In his opening remarks, Mr. Hussein Thomasi, the Solicitor General at the Ministry of Justice said, "SGBV is not merely a women's issue; it is a human rights issue that impacts everyone. It tears at the very fabric of our communities, leaving behind shattered lives, broken dreams, and enduring trauma".
He further recommended that regular training sessions should be organized, to sensitize police officers, prosecutors, judges, and other stakeholders about the complexities of SGBV cases, trauma-informed approaches, and the importance of preserving evidence.
In her part, Ms. Ella Dougan, the Chairperson of the SGBV unit of the Ministry of Justice said, this was a follow-up training intended to build the capacity of The Gambia's criminal justice system to investigate and prosecute crimes of SGBV.
She added that the training also aims to increase participants' knowledge on SGBV, and the use of trauma-informed interviewing skills - to acquire relevant information to aid in investigations.
"All these efforts are geared towards reducing the risk of SGBV for all persons of concern and ensuring all survivors of SGBV have adequate and timely access to quality services that meet their needs". Ms. Dougan emphasized.
She promised that, her office will be the voice of victims, while calling on the stakeholders to come together, unite and fight this heinous crime of SGBV in The Gambia.
After the completion of the training, participants are anticipated to have a deeper understanding of SGBV, shared best practices, identified existing challenges, and discuss potential solutions that would ensure victims' needs, concerns, and safety are centered in the criminal processes.
In conclusion, at the end of the training, participants are expected to understand the elements of 5 key SGBV offences in The Gambia, which includes: rape (Sexual Offences Act, 2013); defilement, indecent assault; indecent insulting or annoying females and female circumcision.